Victoria Herit is a character in the NPLH universe portrayed by Victoria Maitland. She is the Customer Services Managers and Front Reception at the Funeral Home visited by Holmes in "Ashes to Assets" (Series 5, Episode 3)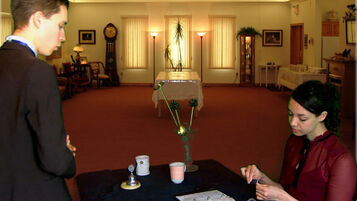 A snooty, standoffish, cold fish of a woman, Herit has less personality than the dead in the funeral home around her. She goes out of her way to be unhelpful as can be and hinder Holmes in his investigation.
QUOTES: 
"We don't need your sort traipsing in and out of here with ya finger pointing and…..magnafy…glassing"
DID YOU KNOW:
Victoria also presents The Diogenes Documentary episode "The One Fixed Point".
Ad blocker interference detected!
Wikia is a free-to-use site that makes money from advertising. We have a modified experience for viewers using ad blockers

Wikia is not accessible if you've made further modifications. Remove the custom ad blocker rule(s) and the page will load as expected.