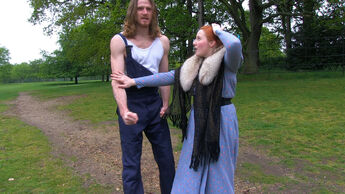 The Day The Milk Ran Dry was the 2nd episode of the 2nd series of The Mary Morstan Mysteries. It originally ran in two parts between 1st June-9th June 2014.
In the episode, Mary Morstan and Mrs. Hudson head to her cousin's farm for a week away from London. They might leave behind the fog, hustle and bustle behind, but it seems the mysteries follow Mary where ever she may be.
DID YOU KNOW? Edit
The scene in which Thomas Digweed is hit by a jam-jar is not staged. Lexi Wolfe mistakenly used to much force when she swung it, inadvertently causing direct collision to Joe Sandz's forehead. However, thankfully the blood effect on Joe's forehead when he drops to the ground is fake.
Gwendolyn Chambers: Kelsey Williams
Professor Moriarty: Adrian Charlton
Thomas Digweed: Joe Sandz
Jessica The Barmaid: Amy Brunskill
Sherlock Holmes: Ross K. Foad
Ad blocker interference detected!
Wikia is a free-to-use site that makes money from advertising. We have a modified experience for viewers using ad blockers

Wikia is not accessible if you've made further modifications. Remove the custom ad blocker rule(s) and the page will load as expected.