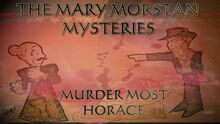 Murder Most Horace was the 3rd episode of the 2nd series of The Mary Morstan Mysteries. It originally ran in two parts between 26th August-30th August 2014.
In the episode, Mary Morstan's alter ego "Horace Moustachio" gets accused of murder. Can Mary prove his/her innocence? Or is this the end for poor Horace?
Inspector Bradstreet: Peter Stanford
Gwendolyn Chambers: Kelsey Williams
Professor Moriarty: Adrian Charlton
Sherlock Holmes: Ross K. Foad
Ad blocker interference detected!
Wikia is a free-to-use site that makes money from advertising. We have a modified experience for viewers using ad blockers

Wikia is not accessible if you've made further modifications. Remove the custom ad blocker rule(s) and the page will load as expected.