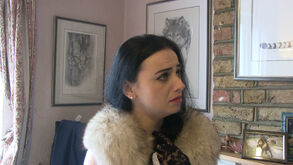 Lady Frempong is a character in the NPLH universe portrayed by Carmen Silva. She can be best described as an aristocratic crazy cat lady, using her considerable wealth for the benefits of cat-kind, and more specifically, her beloved cat, Mr. Fluffboo. 
She appears in the 3rd episode of the 5th series "Ashes to Assets" as a client of Holmes, seeking his help after an urn containing the late Mr. Fluffboo's ashes disappear. 
DID YOU KNOW 
While Lady Frempong did not show up till the 5th series, her cat Mr. Fluffboo was first mentioned in Series 1, Episode 3 "The Dubious Spiritualist", in a cut-away gag that sees Holmes trying to get the cat down from a tree. 
He is later mentioned again in Series 2, Episode 4 "Hats off Mr. Holmes" when Watson notices an article in the paper requesting information for the whereabouts of the once again missing Cat. The proposal of taking up the case is quickly shot down by Holmes again.