Herbert Reeves is the main villain in the episode "Dialysis Murder" (Series 3 Episode 3), and was portrayed by John Tsopanis. He is a an unassuming Walter Mitty type character of seemingly feeble mind; a nosebleed prone, mumbling gardener and occasional animal rights activist.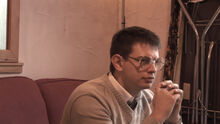 Although Herbert meets his demise at the end of the episode, John Tsopanis liked his character so much, he revived him as a character for a two-night run within a play entitled "OH THE HUMANITY ". The production, by playwright Will Eno, takes "a look at the snapshots of life by eight  people being ordinary. Inadequate. And totally exposed."
"YOU'LL NEVER TAKE ME ALIVE".
"You can't save tree frogs with Rice Krispie Squares".
"When I found out he had been accused of murder, why, I actually had a nosebleed".

03:19

Herbert Reeves
Ad blocker interference detected!
Wikia is a free-to-use site that makes money from advertising. We have a modified experience for viewers using ad blockers

Wikia is not accessible if you've made further modifications. Remove the custom ad blocker rule(s) and the page will load as expected.